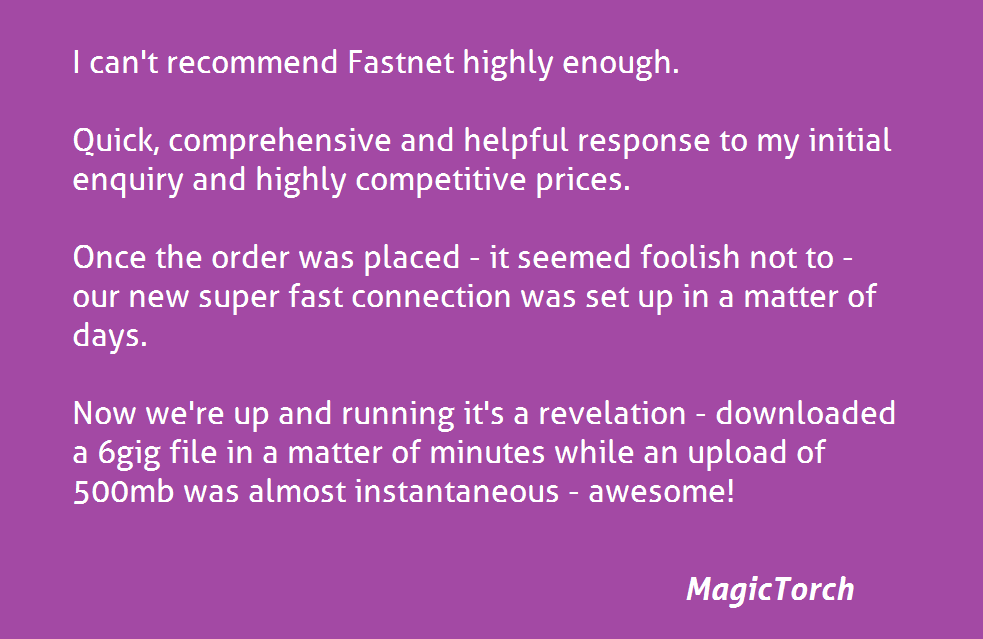 Brighton Digital Exchange
Fastnet are proud to announce our involvement with the newly formed Brighton Digital Exchange.
The BDX is located within New England House in Brighton to provide ultrafast broadband to small and medium businesses. This Digital Exchange has enabled local tech businesses to pool their resources and invest in shared broadband capacity, enabling them to access high speed connectivity. It will also help Brighton's tech cluster build a more direct link to London's Tech City.
The construction of the Digital Exchange has included;
The construction of a well-specified hosting facility within New England House, featuring UPS, Standby Power Generation, Cooling.
A building-wide fibre cabling rollout, providing simple connection from every unit to the new hosting suite.

The BDX allows companies in the building access to the same range of Fastnet's business grade data centre hosting and connectivity services - with the advantage of simple service setup and local support.
Speak to our team Speak to a member of our team to find out more!
Our Services at the BDX
BDXCloud


With our cloud data centre you can setup and manage virtual machines, virtual networks and firewalls via your own user-friendly VMware vCloud Director control panel. Take advantage of high speed links from the BDX to the Brighton Cloud.

BDXColo


Colocate your servers with us - choose between Fastnet racks at the BDX itself, or in our main Brighton Datacentre. Options include 24x7 access, managed hardware/firewalls and bandwidth options to 10Gb/s and beyond.

BDXConnect


100Mb/s Internet access directly from your suite - offering low-latency local connectivity.

BDXTransit


Direct IP transit - we'll announce your AS to the world from our Brighton datacentre to our wide range of Tier 1 providers.

Business Web Hosting


Secure hosting for your websites, web stores and email. We have the product level to suit your business with easy setup and full cPanel management of email, webspace, databases, DNS and more.
Fastnet WAN


Layer 2/3 MPLS VPNS provided over our resilient core network. Take advantage of industry leading Palo Alto firewalls and link your BDX network with your enterprise.

LINX ConneXions


Access the LINX Peering LANs from the BDX or our Brighton Datacentre.

Off-site Backups - DraaS


Leverage our local infrastructure for off-site data replication and bare-metal restore from anywhere.

Off-site Backups - Restore


Your business depends on its data. Take advantage of Fastnet Restore to backup all your cross platform data - securely encrypted and stored in two different off-site locations, with the advantage of high speed local access to the Brighton backup network.

Partner Hosting


Need more power and flexibility than our Business Web Hosting product? Our Partner Hosting package allows you the control to resell our platform as your own

Bespoke Services


If you have a bespoke requirement for connectivity or hosting we can probably help, contact our team to discuss your requirements.
They feel like part of our business
Read more
Request a Call back
Short on time? Leave us your details and a member of our team will call you back within 24 hrs.
Send Details
Call our Team
Ready to speak to us now? Call one of our friendly advisors on the number below...
+44

(0) 1273 688 088
Live Chat
Not by a phone? Why not let a member
of our sales team help you via live chat.
Start a chat
We are proud of our clients